BGSC Solo Open Meeting 2021
Published 11:23 on 29 May 2021
Barnt Green Sailing Club held its first open meeting for three years on Saturday 22nd May. Visitors from as far away as Manchester and Northampton joined six sailors from our home club.
Race officer Merlyn Wilcox set a broadly figure of eight course and four races were held in a gusty north westerly wind.
The winner was Ian Ingram of Earlswood Lakes Sailing Club, the current Midlands champion.
Final Results Table

Ian Ingram - Sail #5858 - Earlswood Sailing Club - 5 points
Alan Bishop - Sail #5723 - Girton Sailing Club - 6 points
Adam Froggatt - Sail #4529 - The Chase Sailing Club - 9 points
Kev Hall - Sail #5524 - Northampton Sailing Club - 9 points
Nigel Davies - Sail #5911 - Draycote Sailing Club 10 points
Ollie Ridgway - Sail #5399 - Barnt Green Sailing Club - 15 points
Matt Newton Sherlock - Sail #5688 - Barnt Green Sailing Club - 20 points
Bob Suggitt - Sail #5318 - Barnt Green Sailing Club - 21 points
Jon Wood - Sail #4772 - Earlswood Lakes Sailing Club - 22 points
Andy Paton - Sail #4719 - Barnt Green Sailing Club - 29 points
Graham Wilson - Sail #5721- Northampton Sailing Club - 31 points
Paul Smith - Sail #5695 - Barnt Green Sailing Club - 34 points
Mike Caley - Sail #4893 - Barnt Green Sailing Club - 40 points
Richard Halton - Sail #5695 - Earlswood Lakes Sailing Club - 42 points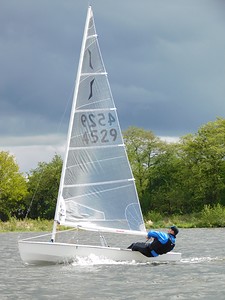 Photos courtesy of Bob Suggitt and Cheryl Kiely

Last updated 15:21 on 23 November 2021